Whether it is crypto, stocks, or commodities, buying tokens before their bull run gets you the most returns over time. It's a no-brainer. Everyone knows that. But finding tokens before they begin their uptrend requires a lot of research. We will help you save some time.
Here's a list of the five top trending cryptocurrencies that are on their way to a steep upturn. The guide analyzes their vision, core features, and roadmap and how they are positioned to scale growth this year.
Top Trending Cryptocurrencies Ready to Take Off
Tamadoge (TAMA) – Most Trending Cryptocurrency to Buy in 2022
Crypto Snack (SNACKS) – Best iGaming Token in the Market
Earthling (ETLG) – Cryptocurrency with a Social Mission
Gods Unchained (GODS) – Best Gaming Token to Invest in 2022
Polygon (MATIC) – Most Undervalued Cryptocurrency in 2022
1. Tamadoge (TAMA) – Most Trending Cryptocurrency to Buy in 2022
Tamadoge is the latest meme coin sensation to take the crypto market by storm. It is sprinting towards the end of its presale, having sold out more than 60% of the total allocation at the time of writing. The project has raised $13M already. If you're wondering why the new meme coin is trending, here is why:
Tamadoge is utility-driven
Unlike early meme coins like Dogecoin and Shiba Inu, Tamadoge is not ready to settle for the meme coin tag. It uses the brand recognition of Dogecoin to build a bigger, better ecosystem with play-to-earn, NFT, metaverse, and AR integrations. The key defining feature of the meme coin will be its diverse utilities. The token will build value, tapping into its utility rather than speculation.
The primary utility of TAMA tokens will come from the ecosystem's play-to-earn mechanism that will go live soon. It will be a simple, fun pet NFT game centered around Tamadoge Pet NFTs. You will be able to mint your Tamadoge Pet NFT by the end of this year using TAMA tokens.
The game takes inspiration from Tamagotchi, the biggest toy craze of the 90s. The pets have to be fed, taken care of, and nurtured into their adulthood. Fully grown Tamadoge Pets battle against each other to climb up the leaderboard, winning you rewards with real-world value.
Another exciting aspect of Tamadoge is its augmented reality app, which is scheduled for release in the last quarter of 2023. However, Tamadoge will begin its metaverse integrations earlier. Each Tamadoge NFT comes with a fully rigged-up, animated 3D model that makes it compatible with existing metaverse environments.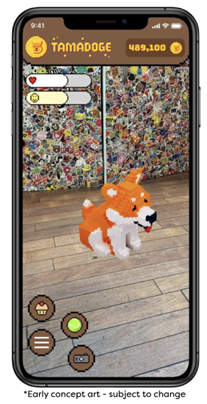 TAMA is deflationary
To ensure the long-term growth of the token and the project, TAMA tokenomics is kept deflationary. While the token has a maximum supply of 2 billion, the ingrained burn mechanism erases 5% of the tokens for every transaction. Your token holdings become more valuable over time, with the potential to give 100X returns. However, make sure you buy TAMA early, as its presale price increases with each tranche.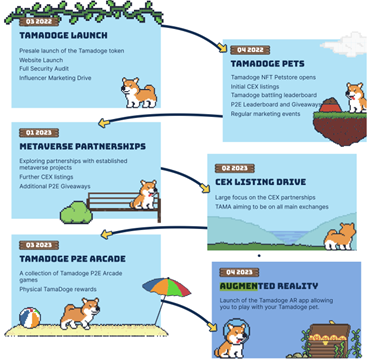 Tamadoge community is fast-growing
The biggest source of strength for a crypto token is its community. Less than two months into launching, Tamadoge has built a large community on social media. Tamadoge memes are currently trending on the internet. The Tamadoge Twitter account has around 50,000 followers now. The Telegram account, on the other hand, has around 30,000 members. The team regularly hosts AMAs, answering the community's questions and sharing updates about project development.
2. Crypto Snack (SNACKS) – Best iGaming Token in the Market
Our next recommendation is Crypto Snack, the world's fastest-growing iGaming Token. Predicted to become the leading token in the online casino and gaming sectors, SNACKS is gearing up for a big bull run by the end of this year. The project's active integrations across iGaming, sports, and entertainment sectors are fueling the race.
Currently, SNACKS is used as currency on more than 800 online business platforms, made possible by a partnership with CoinsPaid. The leading crypto payment gateway has a stringent selection process that leans towards high market cap cryptocurrencies like BTC, USDT, and DOGE. However, it made an exception for SNACKS, factoring in its huge growth potential in the iGaming sector. (More than 300 of the 800 platforms supported by CoinsPaid are online casinos and betting operators.)
Crypto Snack also signed a partnership with RCD Espanyol in May this year, which allows the La Liga club to accept SNACKS as payment for online and offline purchases from next season. Interestingly, the partnership marked the first time a La Liga club integrated crypto payments. Crypto Snack has bigger plans, however. It is actively working on introducing SNACKS as payment into other top European clubs soon.
Here is another key reason why we believe Crypto Snack will reward investors lucratively this year. The project recently secured a $50M investment commitment from GEM Digital Limited. The fund will go towards getting SNACKS tokens listed on Tier-1 exchanges, expanding its global professional sports partnerships, and developing the platform's blockchain infrastructure.
What's more? The team allocation of SNACKS is unlocked over a period of 10 years, ensuring that the team is committed to the long-term growth of the project.
Planning to stock up on SNACKS tokens before the bull run? SNACKS is currently available for purchase on PancakeSwap and XT.com.
3. Earthling (ETLG) – Cryptocurrency with a Social Mission
Earthling builds on a social mission that has huge potential across crypto and non-crypto communities in the coming years — saving planet earth using a decentralized, inclusive ecosystem.

The project delivers its mission through ETLG token, the native currency and governance token of the ecosystem. It supports initiatives that fight climate change and ecological collapse by helping more individuals, families, and businesses remove carbon, restore nature, and become carbon-neutral.
Earthling also launches Carbon Token, an asset backed by carbon credits. Carbon Token acts as a digital certificate that lets you emit 1 tonne of CO2. With more and more companies looking for ways to meet their carbon offsetting goals, the idea is expected to take off in the coming months.
4. Gods Unchained (GODS) – Best Gaming Token to Invest in 2022
We wrap up this list with Gods Unchained, a trading card game based on the Immutable X blockchain.
The game offers immersive gameplay, capturing widespread attention from seasoned gamers looking to earn some extra income.
You just need an Ethereum wallet to start playing the game and make your way up the leaderboard. GODS, the native currency of the ecosystem, is used to purchase cards and in-game items.  Factoring in the dynamic gameplay and the growing user base for the game, GODS is predicted to climb high this year.
5. Polygon (MATIC) – Most Undervalued Cryptocurrency in 2022
Polygon is the leading Ethereum scaling solution. It has already made its name and currently has a 7B market cap. With ETH Merge on the horizon, does Polygon have any growth potential? We certainly think so.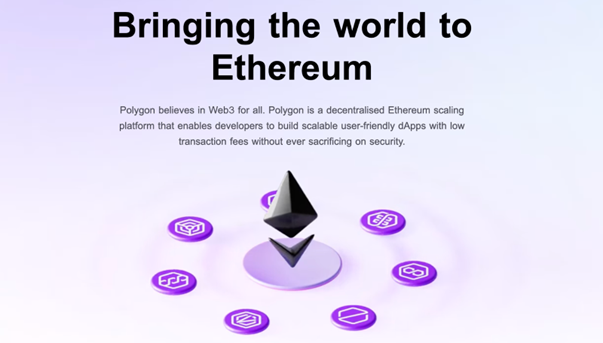 Contrary to popular belief, MATIC is not saturated. A peek into the project reveals that a lot is going on, especially in the metaverse arena. Polygon's long-term vision is to build web3 infrastructure for the fast-emerging virtual world. Moreover, Polygon is nearly carbon-neutral. It is a clear choice for projects aiming to build a sustainable ecosystem.
The active integrations and collaborations across the blockchain ecosystem prove that MATIC is undervalued now. We expect the MATIC price to cross a new all-time high soon.
How to Buy TAMA tokens
TAMA token has the biggest growth potential this year, owing to its utility-driven vision and engaging play-to-earn narrative. The token is expected to take off by the end of this year ahead of the Tamadoge NFT launch. Buy them early to sweep the largest returns.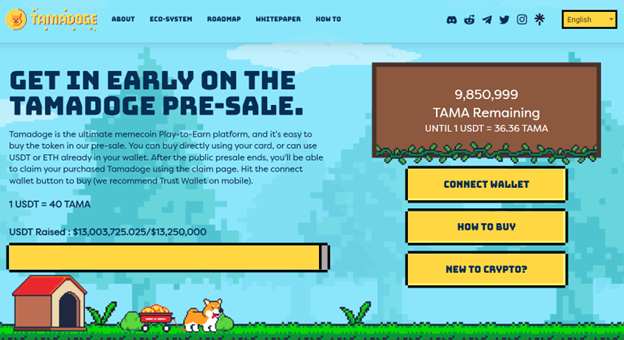 Step 1: Download a crypto wallet
If you're using a desktop device, we recommend Metamask. Mobile users can use Trust Wallet and copy https://buy.tamadoge.io into their Trust Wallet Browser. (Any other wallet supported by Wallet Connect will also work fine.)
Step 2: Purchase ETH or USDT
If your wallet doesn't have ETH or USDT, buy them from any crypto exchange of your choice. You can also buy ETH from the Tamadoge website via Transak using your debit/credit card.
Step 3: Connect your wallet to the Tamadoge presale page
Go to the Tamadoge presale page and click 'Buy' and then click 'Connect Wallet'. Follow the instructions on-screen to complete the process.
Step 4: Buy TAMA

Click 'Convert ETH' or 'Convert USDT' as per your choice and enter the amount you wish to purchase.
Step 5: Claim TAMA
You can claim TAMA once the presale ends and the 'Claim' button on the website is active.
Visit the Tamadoge Presale Now