Aptos price has soared by over 87% from its December lows.

PancakeSwap's TVL in Aptos has surged to almost $30 million.

AUX Exchange has seen its assets tumble by over 45% in 7 days.
Aptos price has had a strong start in 2023. The APT crypto price soared to $6 on Tuesday, its highest point since November 8. It has climbed by more than 87% from the lowest point in December. According to CoinMarketCap, Aptos has a market cap of over $741 million.
PancakeSwap TVL soars
Aptos is a relatively new and well-funded public blockchain that was established in 2022. Its backers include the infamous FTX, Andressen Horowitz, and Binance. According to its documentation, the network aims to provide a better platform for developers to build decentralized applications (dApps). 
Aptos is now governed by Aptos Foundation,as we wrote here. It has had a lot of success in the past few months. For example, the total value locked (TVL) in its ecosystem has soared to more than $49 million. This is a remarkable performance since an older and well platform like Cardano has a TVL of about $60 million.
Aptos price has soared mostly because of PancakeSwap, the well-known DeFi platform. Data compiled by DeFi Llama shows that the value of assets in PancakeSwap's Aptos version has risen by 93% in the past 30 days to over $29.31 million. It has grown by 8% in the past seven days. 
PancakeSwap's traders love its Aptos version because of its low fees and fast execution. Transaction costs in Aptos are negligible while the speed per transaction is more than 100k per second.
Other DeFi apps in Aptos have had a mixed performance. Ditto has seen its TVL jump by more than 66% in the past 30 days. Similarly, Tortuga and Argo have seen their TVL jump by more than 20% in the same period. 
The main laggard is AUX Exchange, the second-biggest DeFi app in its ecosystem. Its TVL has dropped by over 17% in the past 24 hours and 45% in the past 7 days. 
Aptos price forecast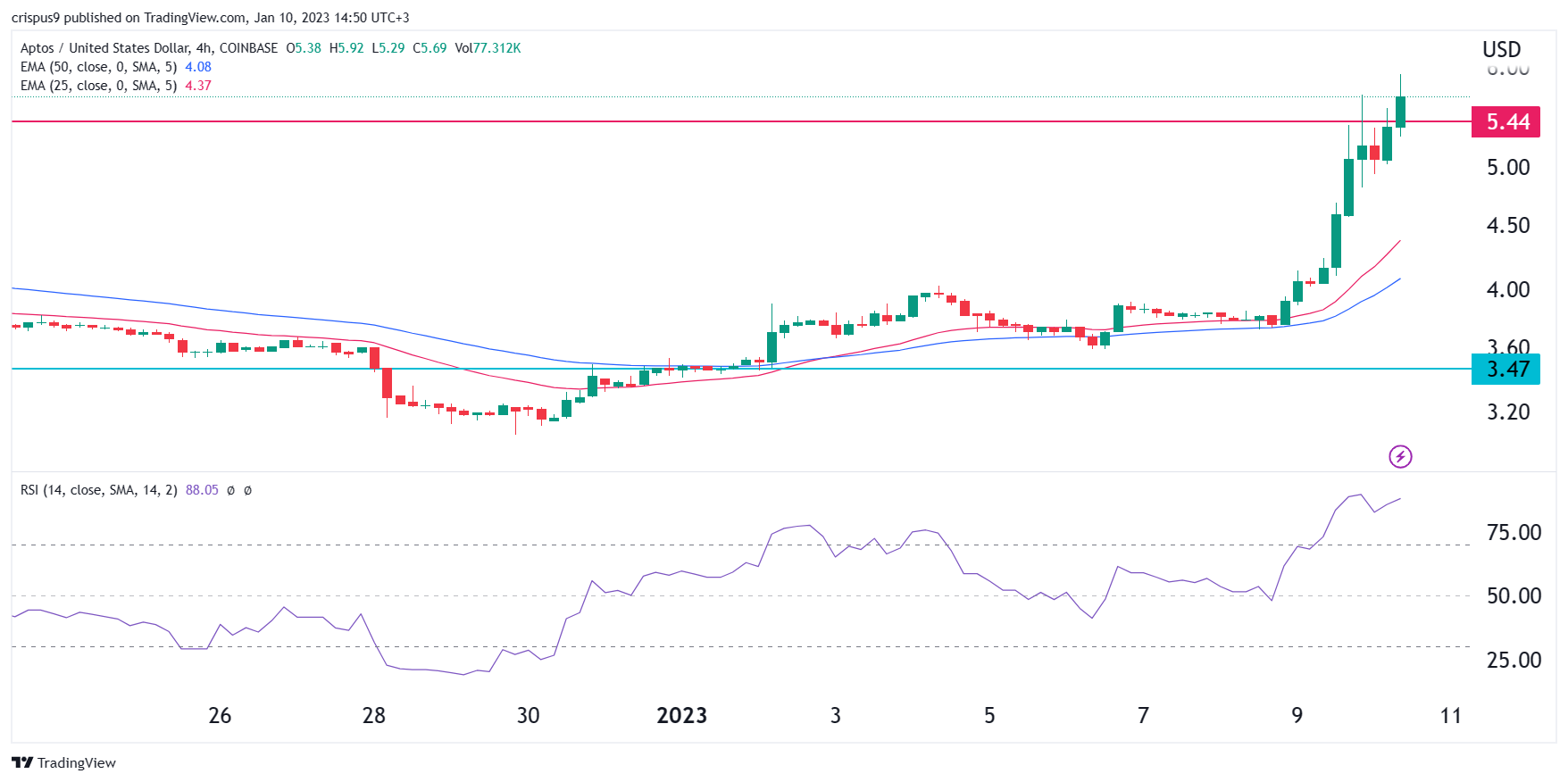 The 4H chart shows that the APT price has done well in the past few days. As it rose, the token rose above the important resistance level at $5.45, the highest point in December. It has moved above all moving averages. The Relative Strength Index (RSI) and the Stochastic Oscillator have moved above the overbought level.
Therefore, I suspect that the coin will retreat in the coming days. If this happens, the next key support level to watch will be at $4.50. 
How to buy Aptos
Binance.US
Binance.US provides secure and reliable access to the world's most popular cryptocurrencies, with some of the lowest fees in the industry.