Meme coins are one of the fastest-growing tokens in the crypto market, despite them only entering the industry a few years ago. It began with the most well-known of the gang, Dogecoin, then soon followed Shiba Inu and the other variations of the dog-themed tokens. Its popularity is a result of investors' love for the internet, which has significantly contributed to billions being spent to own these coins.
One coin, in particular, has hit the market with great success and has already been picked up by a prominent crypto enthusiast, BitBoy Crypto, who shows great confidence in the coin, despite it only being active for a few days. Big Eyes Coin (BIG) is preparing its community for its much-awaited launch and as the presale is set to end in a few weeks, now will be the only time for users to receive the remarkable rewards that it offers.
Bencoin: Crypto for Guys Named Ben
When Bencoin was released at the start of May, nobody could have predicted its trajectory. Rumoured to have been the brainchild of a telegram group where all participants are named Ben, the coin was released a few days before it exploded on Twitter. This came from prominent crypto Youtuber Ben Armstrong (BitBoy Crypto) voicing his support in a tweet and announcing the contract address with the token chart showing the token trading against Wrapped Ether (WETH).
When it launched it showed some volatility, with a 300% price elevation followed by a 200% decline a few hours after, and this volatility remains. In the days since its release, it has been rapidly fluctuating with a 43% decline in the past 24 hours and a further 34% a few hours after, as seen at the time of writing. Many speculate that the pump of this coin could be nearing its end soon.
However, despite the current mixed sentiment toward the coin, the support that it is receiving from BitBoy Crypto could be the key to its survival. The token is currently listed on DEX Uniswap and has a liquidity pool of over $2 million, with a total supply of 406 690 tokens.
Big Eyes Coin: Final Checks Before Lift-Off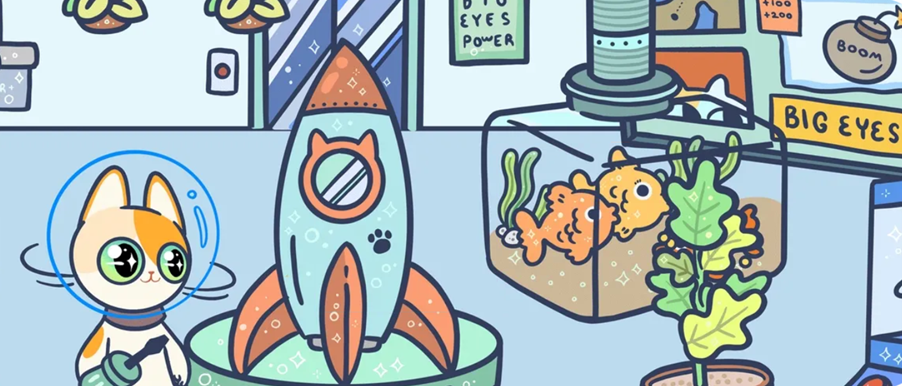 Big Eyes Coin has become one of the most anticipated coin releases in recent years. Its community-focused approach has attracted many investors, along with its incredible competitive potential with reward systems. The presale was released in August of 2022 and achieved almost 30% of their goal within the first month, along with being listed on Coinswap and being made a legitimate token supplier.
One of the favourite incentives for Big Eyes Coin users is its loot boxes. Buyers simply need to invest a minimum of $10 to win prizes of up to a million dollars. This was a great motivating factor for many investors because of its low-risk-high reward system and it is accompanied by a 300% bonus with every purchase. This can be unlocked using the code END300.
Furthermore, the NFT collection is currently hot on the Opensea marketplace. This is a great incentive for users to collect, mint, and eventually trade once the platform launches, plus it will make for a great long-term investment.
In the months following Big Eyes Coin's launch, there are a lot of exciting things happening for the community. One notable mention is the Kitty Casino which will be launching in August and will have more than 4 000 games available including various play-to-earn mobile games. These will give users a chance to earn $BIG and continually engage with the platform.
Do not miss this opportunity to be part of the Kitty Cuddlers. Use the code END300 to unlock your world as a reward.
In conclusion, the meme coin market is the fastest-growing altcoin option in the industry and has gained significant popularity in recent years. With the sheer volume of these coins that are hitting the market and competing, it is safe to say that these look to be the future of crypto as it moves away from traditional coins and appeals to the younger generation of traders that are entering the industry.
For More on Big Eyes Coin (BIG):
Presale: https://buy.bigeyes.space/
Website: https://bigeyes.space/
Telegram: https://t.me/BIGEYESOFFICIAL
Opensea: https://opensea.io/collection/big-eyes-lootbox-cards
Twitter: https://twitter.com/BigEyesCoin
Disclaimer: This is a paid release. The statements, views and opinions expressed in this column are solely those of the content provider and do not necessarily represent those of NewsBTC. NewsBTC does not guarantee the accuracy or timeliness of information available in such content. Do your research and invest at your own risk.