BIT price continued its bearish run on Thursday as focus shifted to the upcoming token unlock. BitDAO's coin retreated to a low of $0.5073, which was about 21% below the highest level this year. It has also pulled back as the enthusiasm of Mantle's launch fades.
BitDAO token unlock
One of the biggest cryptocurrency news will be the upcoming token unlocks in the ecosystem. Data compiled by TokenUnlocks shows that there will be tokens worth $95 million that will be unlocked in the next five days. This is an important development considering that token unlocks tend to be bearish for a cryptocurrency. 
The idea behind this is simple since when you increase the amount of tokens in circulation, you tend to dilute existing holders. This dilution is so severe such that dYdX decided to postpone a major unlock event that would have put pressure on the token.
Data shows that the number of BIT tokens that are still locked is falling. 31% of all tokens or 7 1.52 billion are still locked while 7 billion of them are unlocked. According to its schedule, the current batch of tokens will finish being unlocked in September 2024.
For starters, BitDAO is a decentralized platform that makes it possible for people to build dApps. It is a decentralized autonomous organization (DAO) that has over $2.4 billion in assets. It then uses these assets to provide funding to promising developers.
Most of these funds are in the form of BitDAO followed by Ethereum, USD Coin, and Tether. A small amount of the funds are in FTX Token (FTT). 
BIT price has also declined as the hype surrounding Mantle wanes. Mantle is a new layer-2 network that was launched last month. It has similar features to other layer-2 networks like Polygon, Arbitrum, and Optimism.
BIT price prediction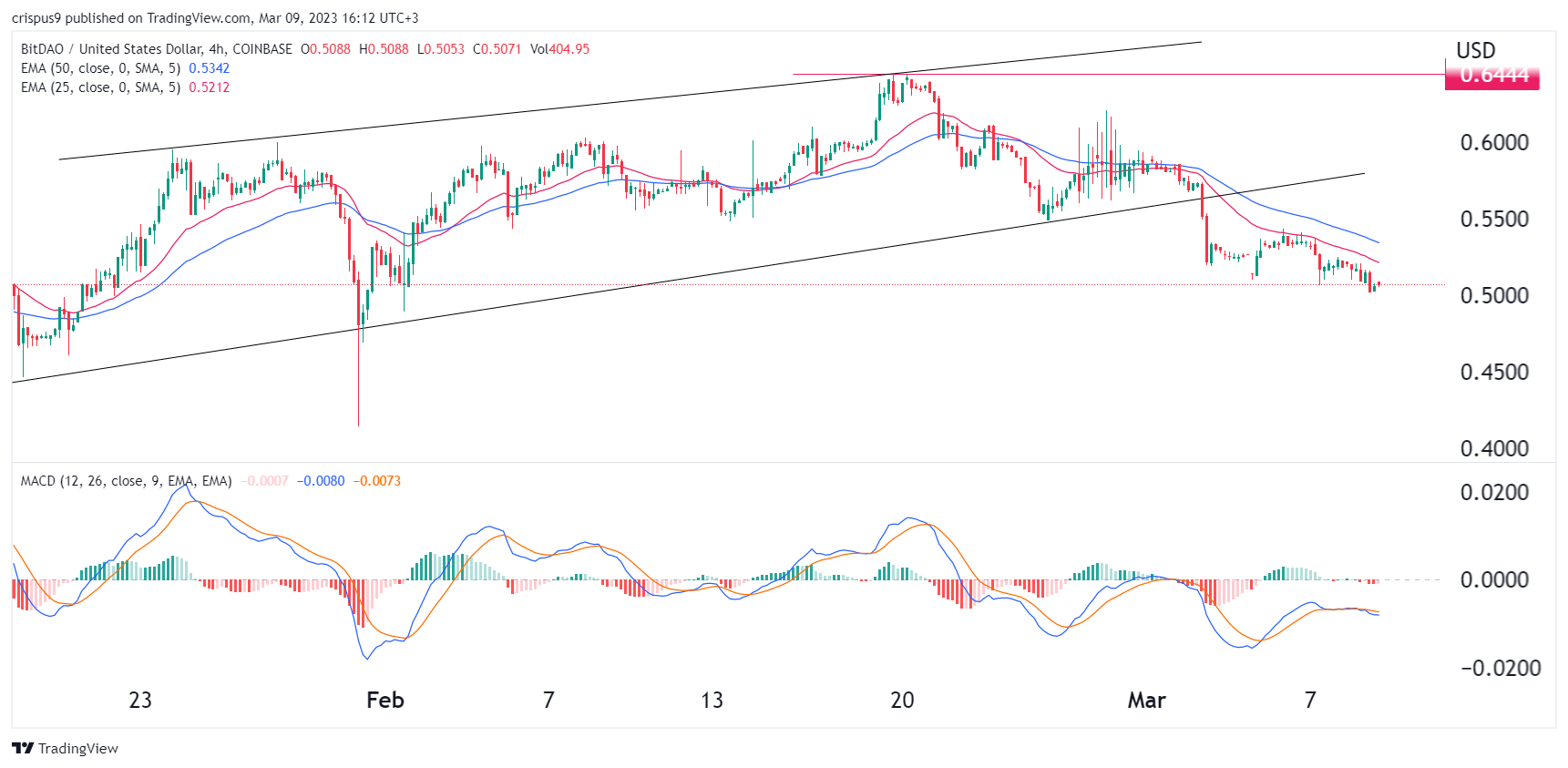 The 4H chart shows that the BIT price has been in a strong bearish trend in the past few weeks. It has crashed below the lower side of the ascending channel shown in black. At the same time, the pair has dropped below the 50-day and 25-day moving averages. The MACD remains below the neutral level. 
Therefore, BitDAO price will likely continue falling as sellers target the next key support level at $0.45. A move above the resistance at $0.5280 will invalidate the bearish view.
How to invest in BitDAO
As BIT is such a new asset, it's yet to be listed on major exchanges. You can still purchase BIT using a DEX (decentralised exchange) though, which just means there are a few extra steps. To buy BIT right now, follow these steps:
1. Buy ETH on a regulated exchange or broker, like eToro ›
We suggest eToro because it's one of the world's leading multi-asset trading platforms, an exchange and wallet all-in-one with some of the lowest fees in the industry. It's also beginner-friendly, and has more payment methods available to users than any other available service.
2. Send your ETH to a compatible wallet like Trust Wallet or MetaMask
You'll need to create your wallet, grab your address, and send your coins there.
3. Connect your wallet to the 1Inch DEX
Head to 1Inch, and 'connect' your wallet to it.
4. You can now swap your ETH for BIT
Now that you're connected, you'll be able to swap for 100s of coins including BIT.