Cryptocurrency influencer Ben Armstrong, known as BitBoy, has launched a new cryptocurrency token called $BEN. BitBoy announced the development on Twitter, stating that BEN is a new meme coin with an as-yet-unknown utility other than being better than the JEFF token. Another newcomer to the market called PAT WARS (PAWS) has announced the start of its presale. Read on to find out more.
BitBoy Crypto Launches $BEN Token
The BEN Token is a new cryptocurrency token recently launched by Ben Armstrong, aka BitBoy, a well-known influencer in the crypto world. BitBoy's Twitter page has been abuzz with news about the launch of BEN.
BEN is the governance token for his decentralized autonomous community Ben DAO. BitBoy is using his influence in the crypto community to promote the token and build a strong community around it. The BEN Token is a meme coin, which means that it is a cryptocurrency that is created to be fun and playful rather than functional.
The social sentiment for BEN has been mixed, with some traders reacting negatively to BitBoy not informing them earlier about the coin. The token has a market cap of over $40 million, and its 24-hour trading volume is $70 million, as of May 10.
PAT WARS: Meme Coins Strike Back
PAT WARS (PAWS) is another meme coin that has been making waves in the crypto world. Like BEN, PAT WARS is designed to be fun and playful, and it has a strong community behind it. PAT WARS operates like Dogecoin and Shiba Inu, with the same model of supply and demand driving up its value. The coin has a presale happening right now, and investors are excited to get in on the action.
The power of community is a significant driving force behind the success of meme coins. This is why PAT WARS puts all of its efforts into empowering its community by providing it with a DAO that facilitates decentralized decision-making and governance. In addition to that, PAT WARS' NFT collection brings members of the community together by providing them with exclusive events, opportunities, and content.
Similar to how BEN uses BitBoy as a mascot, PAT WARS has its own mascot, the PAT WARS Clan of Jedi cat warriors. These cats are faster than a speeder, stronger than a death star, and cuter than baby Yoda, that is what makes such great mascots for an emerging meme coin, as such projects rely heavily on either the appeal of the mascot or celebrity endorsement.
Floki Inu Signs Contract With Binance Futures
Floki Inu is yet another meme coin capitalizing on the same meme as Dogecoin and Shiba Inu. Recently, Binance Futures has introduced a new perpetual contract for Floki Inu (FLOKI). The contract, which offers up to 20x leverage, enables traders to buy or sell Floki Inu without an expiration date. It closely follows the spot price of the asset and has a capped funding rate, settling in Tether (USDT). Binance may adjust the contract's specifications, including the tick size, leverage, initial margin, or maintenance margin requirements, based on market risk conditions.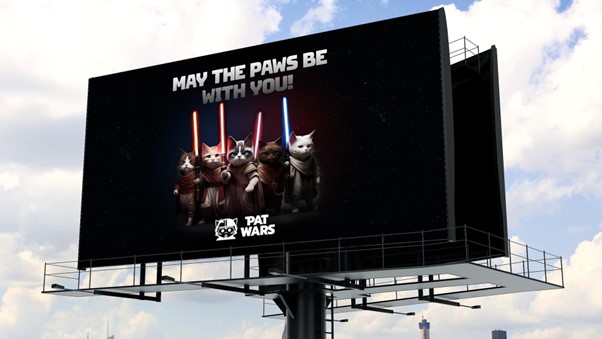 The crypto world is an ever-expanding one with new projects joining in every day, which makes it potentially difficult for a specific coin to distinguish itself. But PAT WARS goes the extra mile when it comes to fostering community empowerment and a strong sense of identity. And since constant innovation is at the core of FinTech, PAT WARS has integrated it into its design and philosophy.
Follow the links if you want to learn the ways of the Jedi Cats!
Presale: https://www.patwars.com/how-to-buy
Website: https://www.patwars.com/
Twitter: https://twitter.com/PATWARSOfficial
Telegram: https://t.me/PATWARSOfficial
Disclaimer: This is a paid release. The statements, views and opinions expressed in this column are solely those of the content provider and do not necessarily represent those of NewsBTC. NewsBTC does not guarantee the accuracy or timeliness of information available in such content. Do your research and invest at your own risk.