Ethereum joined the crypto market frenzy this year and gained 30% YTD. While only a small consolation compared to the 2022 decline, it is encouraging for bulls that the recent rally took less than a month. 
In other words, ETH/USD rose 30% in 25 trading days only. So what does it mean from a technical and fundamental perspective? 
Technical analysis shows a bullish picture while above $1,200
A contracting triangle formed on the daily chart during the second half of last year. $1000 and $2000 acted as support, respectively, resistance levels.
Triangles are interesting patterns. They are the most common technical analysis patterns and can signal continuation or reversal. 
As such, it is often difficult to know beforehand what type of triangular pattern the market forms before the price breaks out of it. This is the safest way to trade a contracting triangle – just wait for the price to move above or below the triangle's trendlines. 
The price broke above the upper trendline because of the recent price action in the ETH/USD rate. At this point, traders should focus on the triangle's measured move, calculated as the distance of the longest segment in the triangle projected from the upper trendline.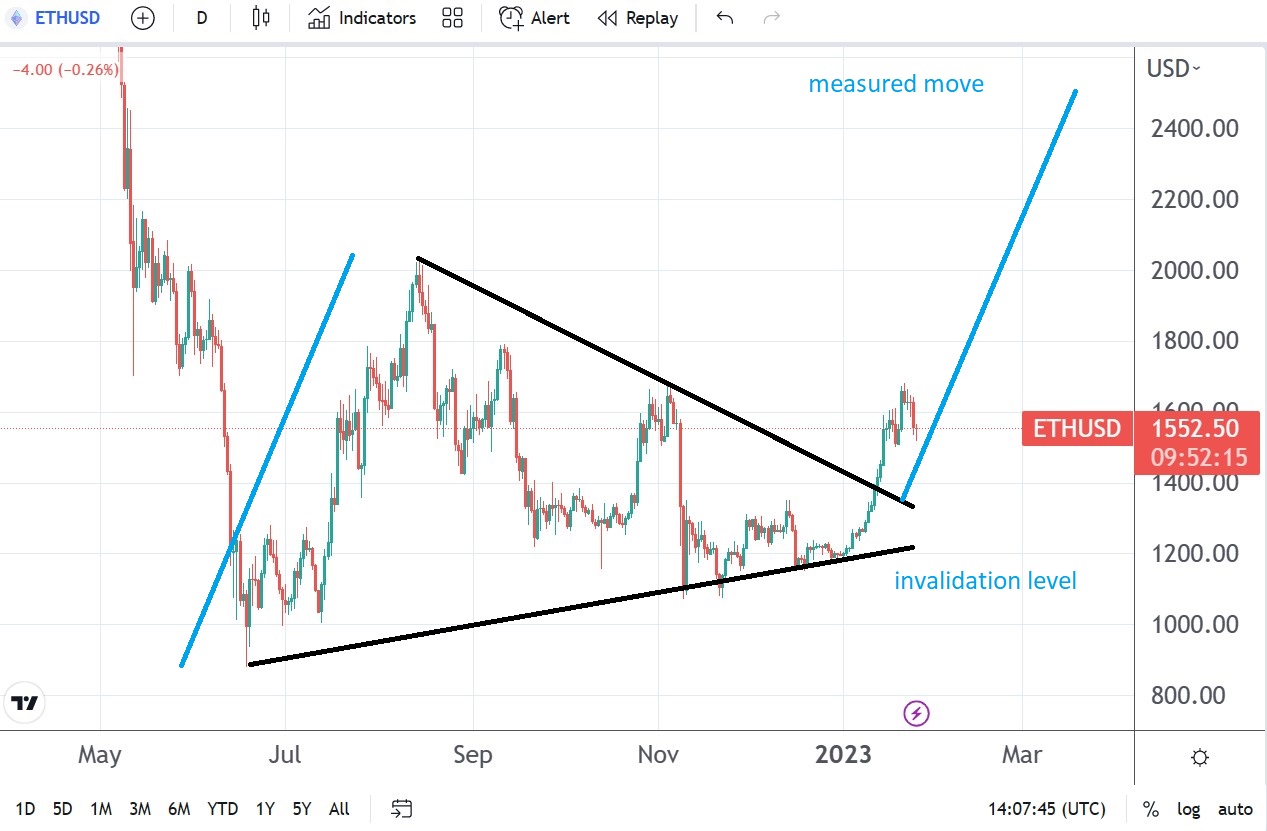 Fundamental analysis depends on what the Fed does/says next week
Market participants noted the slow price action that has characterized trading this week. With no important economic data scheduled, the focus shifts to the Federal Reserve's decision next week. 
The US dollar's strength was responsible for the "crypto winter" seen last year. Also, its weakness was at the heart of this year's rebound. 
Because many institutional investors have adopted cryptocurrencies, the leading cryptocurrencies became part of their portfolios. In other words, they move in sync with the overall markets, affected by factors such as monetary policy, inflation, and other pieces of economic data. 
A hawkish Fed next week might send the US dollar higher. If that is the case, we will see the true nature of this January's rally – is it crypto-based, or is the dollar still in the driving seat?