The price of Ethereum has experienced a notable decline following a major Ether sale this week. The unexpected decrease has left the crypto community anxious about the stability of the world's second-largest cryptocurrency and the long-term effects of the decline. 
Ethereum Price Drops After Large-Scale Ether Swap
On Monday, October 9, the price of Ethereum declined following an extensive Ether swap by the Ethereum Foundation, a non-profit community-run organization dedicated to enabling better human coordination. 
The Ether transaction which took place on Uniswap, a decentralized crypto exchange platform, saw the ETH price drop 5% from its daily high of $1,635 to a local low of $1,553 before recovering once more.
According to Arkham data, the Ethereum Foundation swapped approximately 1,700 ETH worth $2.7 million to a single wallet address which contained almost $400,000 worth of cryptocurrencies and was titled 'Grant Provider' by Etherscan.
The specific intentions behind the large-scale swap have not been disclosed by the Ethereum Foundation. However, the Ethereum Foundation, an organization that holds a considerable influential position, regularly swaps large amounts of tokens to fund its operations. 
Presently, Ethereum is trading at a price value of 1589.36 after recovering from the initial decline. The steep decline has left the crypto community worried about the health of the cryptocurrency and whether the price of Ethereum would recover. 
ETH price recovers after 5% decline | Source: ETHUSD on Tradingview.com
ETH Whales Dump $8.5 Billion
The Ethereum Foundation has not been the only large wallet to sell in recent times as other ETH whales have taken advantage of the altcoin's price. According to crypto analyst Ali Charts on X, ETH whales dumped a whopping $8.5 billion worth of tokens.
This large selling started in February this year and has continued into October. As a result, the whale selling has seen over 5 million ETH sold and redistributed over this 8-month period. The analyst also points out that "this selling trend continues with no current indication of a shift towards #ETH accumulation yet."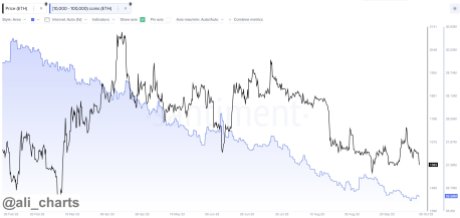 ETH whales dump 5 million tokens | Source: X
Compared to its all-time high of $4891.70 in 2021, the price of ETH has dropped by more than half and has been struggling to reclaim the $2,000 mark. However, this could present a unique buying opportunity for investors who could see the price decline as ETH being on discount. 
Nevertheless, Ethereum continues to hold its position as the second-largest cryptocurrency in the market with a market cap of $191.5 billion at the time of writing. Over the last day, the altcoin has also seen some recovery, rising to $1,593 as bulls gear up to retest the $1,600 resistance.
Featured image from Techopedia, chart from Tradingview.com