Near Protocol paused its remarkable sell-off as Sam Coins staged a strong comeback. The coin rose to a high of $1.428, which was the highest level since December 16. It has rallied by more than 14% from its lowest level in 2022.
Sam Coins rebound
Near Protocol is one of the few cryptocurrencies that are known as Sam Coins. Sam refers to Sam Bankman-Fried, the embattled founder of FTX and Alameda Research. At its peak, FTX was valued at over $32 billion, making it the second-biggest exchange in the world after Binance, as we wrote here.
Sam coins are those cryptocurrencies that Bankman and his empire had invested in. As part of his investment, he often received crypto tokens that he could exchange for fiat currencies. Therefore, with his empire dead and with his legal peril increasing, most investors have decided to exit Sam Coins.
Other popular Sam Coins are Solana, Serum, Bonfida, and Ren. Solana has been one of the worst performers in the crypto industry after the collapse of FTX. Its DeFi ecosystem has lost billions of dollars and it currently stands at $350 million.
Near Protocol has also struggled in the past few months. Its popularity among investors has waned while the total value locked (TVL) in its DeFi ecosystem has crashed to $98 million. At its peak in May 2022, Near had over $800 million in assets. Most apps in its ecosystem have lost value in the past 30 days. They include Ref Finance, Burrow, Meta Pool, and Linear Network. The same is true with other apps in its network.
Near Protocol price also rose after the foundation changed how it makes grants. Going forward, the foundation will stop investing in its inbound start-up grants programs. It will also work with DAOs, with processing within 6 to 8 weeks.
Near price prediction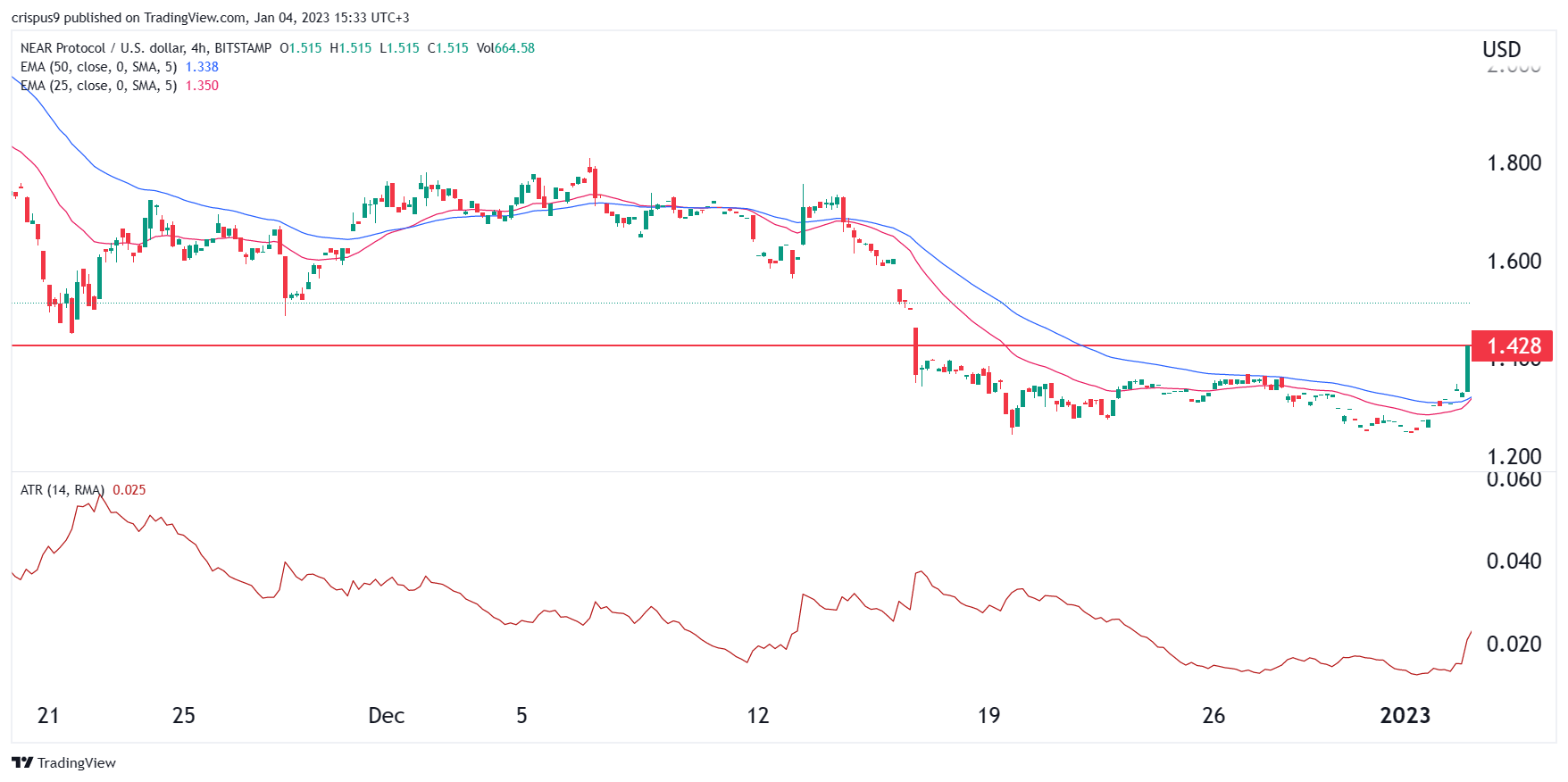 The four-hour chart shows that Near Protocol price has staged a strong recovery in the past few days. As it rose, it moved above the important resistance point at $1.37, which was the highest point on December 27.  It has also moved slightly above the 25-day and 50-day moving averages.
Therefore, Near price will likely resume the bearish trend as the momentum of Sam Coins wanes. If this happens, the next key level to watch will be at $1.30.
How to buy Near Protocol
Binance
Binance is one of the largest cryptocurrency exchanges in the world. It is better suited to more experienced investors and it offers a large number of cryptocurrencies to choose from, at over 600.
Binance is also known for having low trading fees and a multiple of trading options that its users can benefit from, such as; peer-to-peer trading, margin trading and spot trading.
Binance.US
Binance.US provides secure and reliable access to the world's most popular cryptocurrencies, with some of the lowest fees in the industry.