Peter Schiff, the Chief Market Strategist at Euro Pacific Asset Management, is one of the most respected people in finance. He has been right on so many things in the past, including the pace of interest rates, US government debt, and the ongoing risks in the market. I share most of his concerns.
One area I disagree with Schiff is on his Bitcoin outlook. For a long time, Schiff has advocated against Bitcoin, which he believes that has no value. Instead, Schiff, who also runs a gold company called Schiff Gold, has advocated for gold.
Finally @novogratz got something right about #Bitcoin. He admitted that it's not bought, but sold. No one needs Bitcoin. So people only buy it after someone else talks them into doing so. Then once they buy, they immediately try to convince others to buy too. It's like a cult.

— Peter Schiff (@PeterSchiff) October 18, 2023
Gold has done well over years. It has moved from $35 in 1970s to almost $2,000 today and he expects it to continue soaring over the years. He cites the soaring government debt and the rising accumulation by central banks like those in Russia, Turkey, and Chiba.
While gold is a good asset, the reality is that it has not been a good investment in the past decade. Gold has jumped by almost 220% since November 2006 while the S&P 500 index has jumped by almost 400%. Including dividends, the index has done much better.
Bitcoin has also done better than gold by far. While BTC has dropped sharply from its all-time high, it has still beaten gold in the past few years. Bitcoin has risen by almost 400% in the past 5 years while gold is up by just 63%.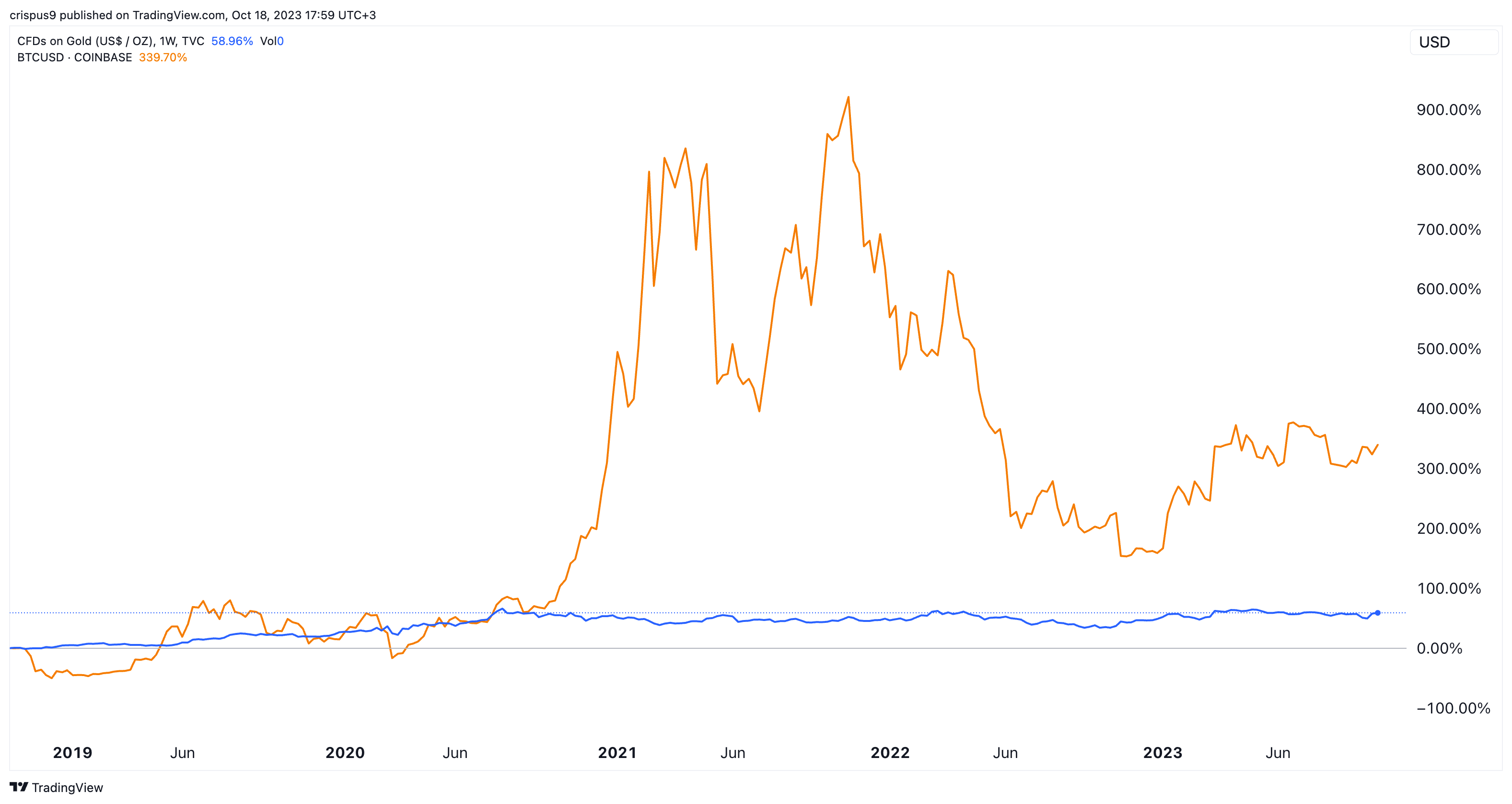 Peter Schiff argues that Bitcoin has no real value and that it is only bought by speculators. This is wrong. While there are many speculators in the crypto space, the reality is that many large investors have held it for years. MicroStrategy has held Bitcoin for three years now while the average holding period was over 3 years.
It is also worth noting that gold has no real use in the industrial space. Instead, many buyers do so because it is a store of value. This explains why gold is mostly bought by investors and central banks.
Events of the past few years are a good proof that Bitcoin is a real asset. For one, the coin survived the Mt. Gox collapse, the Covid-19 pandemic, and the current phase of stagflation. It is also surviving when interest rates have jumped to the highest level in 22 years. 
All this means that Bitcoin has real value, which explains why companies like Blackrock and Invesco are seeking to launch an ETF. In a statement this week, Blackrock's CEO noted that the company was seeing strong demand from international investors.
How to buy Bitcoin
Skilling
Skilling is a regulated Forex and CFD broker that allows traders to access 800+ financial instruments, including 10 popular cryptocurrency CFDs with competitive pricing and fast execution time. Skilling offers a selection of trading platforms, including the proprietary Skilling Trader and popular, industry renown cTrader and MetaTrader 4 platforms, which can suit the needs of customers with different levels of trading experience.
Binance
Binance has grown exponentially since it was founded in 2017 and is now one of, if not the biggest cryptocurrency exchanges on the market.